Media: Lufthansa Inflight Magazine 2019
Publication Date: October 2019
Fixing the World's Food System
We have two to five years left to transform our food system at a global scale according to Alison Cairns, Director of the Food Systems Transformation at World Business Council for Sustainable Development (WBCSD).
Can you give us an overview of the global food system?
Our future depends on healthy people and a healthy planet. The good news is, in recent decades, there has been an impressive growth in food production — the industry has been producing calories which has undoubtedly helped to feed an increasing population. On the other hand, the world is facing complex challenges associated with the global production, distribution and consumption of food. Agriculture is amongst the greatest contributors to global warming and accounts for more carbon emissions than transport. As we have cleared areas of grassland and forest for farms, we have also lost crucial habitat, making agriculture a primary driver of biodiversity loss. These issues are becoming more pressing as we try to meet the growing need for food worldwide. By 2050, the world will have nine billion mouths to feed, with more people joining the middle class. As a result, food demands are expected to increase by as much as 98%. In addition, we need to tackle the emerging health issues because the global food system is broken not only from a sustainability, but also from a health perspective. Today, 800 million people worldwide go to bed hungry, two billion people are deficient in essential vitamins or minerals, and two billion people are overweight or obese — not to mention the rise of diabetes in adults and now in children.
What are the main challenges?
Food systems around the world are very different and nuanced, depending on the region, culture and even religion, which means no single solution exists to fix the global food system. It requires strong collaboration between businesses, scientists and governments to make that transformation the new norm and provide everyone with a balanced diet that is affordable, safe and healthy, without damaging the environment.
What are WBCSD's priorities in this regard?
Our Food & Nature Programme is designed to address key challenges in agricultural and food production, distribution and consumption as well as land use. At WBCSD, we are seeking to work with our members to address the reduction in greenhouse gas emissions from rice fields to studying processes of behavioural change. We are working with the world's leading food corporations, technology and agri-business to deliver our vision of healthy people and a healthy planet.
What is the businesses' role in the global food system transformation?
While a lot of environmental challenges have in many ways been caused by businesses, a lot of solutions can also be found by businesses. It is in their own interest to find new, more sustainable solutions because increasing competition for resources is going to drive up costs and present business risks. It is positive that companies are already going in that direction. Some of our member companies including Unilever, Nestle and Danone have already committed to implementing responsible sourcing and taking out a number of calories from their supply chain. The forward-looking companies we're working with are also recognising a range of reputational risks. Nowadays, consumers are increasingly concerned about the environmental and social challenges — they will reward brands for addressing these issues and they will avoid brands that are unsustainable. This is one of the reasons we are witnessing responsible companies around the world becoming increasingly competitive in their efforts to reduce plastic and packaging waste.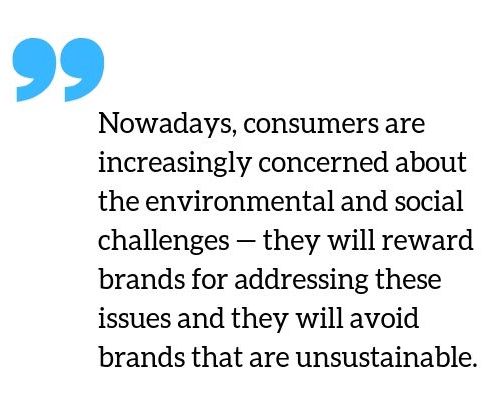 What strategies can be developed to make food-supply chains more nutritious and sustainable?
It would be a mixture of bringing back some of the old lost favourites and new technologies. With our rice, wheat and maize dependancy, we have forgotten that there are thousands of ancient grains out there, such as millets. Millets come with multiple benefits, including exceptionally high nutritional value. They can be grown in poor soil conditions and while 5,000 litres of water are required to grow one kilogram of rice, millets only need 250-300 litres. There has been a Smart Food campaign in Karnataka, India to bring millets back into mainstream diet, and the government and others have been actively promoting the importance of millets for both consumers and producers.
There are also great opportunities to improve our food system through innovation. Vertical urban farming is a win-win solution to increase crop yields without increasing land use. Lab-grown meat is another way how we can completely redefine food production. Most of it however, will probably end up being pet food as currently, a huge amount of meat is produced for pet food.
Meat — especially beef and pork — production is increasing carbon emissions and reducing biodiversity. Does this mean we need to become vegetarians to make food production sustainable?
Our diets have a significant impact both on health and the environment, which means consumers really do need to change their behaviour. A recent report by the EAT–Lancet Commission stated that global consumption of fruits, vegetables, nuts and legumes has to double, and consumption of foods such as red meat should be reduced where it is over consumed. However, it's not going to be a particular system that fits all. In some parts of the world and different populations and individuals will have a range of different requirements such as increasing consumption of animal protein, addressing micronutrient deficiencies and so on.
What's the current thinking on genetically modified (GM) crops?
Even though GM technology has evolved and improved over the years, there is a marked divide when it comes to the cultivation and regulation of GM food in different countries. While there is a strong opposition to GM in Europe, in Africa, there is a higher level of acceptance.
The private sector is involved at every step in the food value chain. How can those in the public sector work with the private sector to improve nutrition?
There is a significant opportunity to improve our food and land use system by implementing healthy and sustainable dietary guidelines. This would direct the companies in terms of what they need to produce and how they need to produce it, but also help the consumers to make better-informed food choices. I think policy makers have an important role to play because they can set the policy and regulatory frameworks, incentives to make a transformed food and land systems mainstream.
How can we encourage consumers to change their behaviour?
Nowadays, consumers are not just buying vegan or vegetarian food, they are buying lifestyles. This is exactly why governments must step in to help build consumer demand for healthy and sustainable food and diminish the demand for foods that are unhealthy and unsustainable. That means investing in sustainability education and awareness campaigns that would create an appetite for certain diets. This is where business reformulation and innovation are vital and forward-thinking companies can build marketing and advertising campaigns to promote healthy and sustainable eating.
What are the trends shaping the supply chains?
From a consumer point of view, there has been a trend towards more local sourcing, organic and sustainable food, so supply chains are increasingly shifting from global to local. But while there are good reasons to have local supply chains in terms of climate resilience, there is still a clear need for global supply chains as we need to be able to ship food around the world to feed people in case of natural disasters, climate change and conflict.
How do you see the landscape in the next 5 to 10 years?
The truth is, we don't have that amount of time if we want to avoid systemic failures. In reality, we have two to five years for food companies, scientists and policymakers to come together to improve the health of people and tackle shared environmental challenges. But looking further into the future, I'd like to think that in the next five to ten years we will be well on the way for the business sector to be much more sustainable and diverse. I also hope we will have a very clear set of roadmaps towards healthier diets and a sustainable food and land use systems. Along the way, there needs to be realisation of new markets, new models and greater resilience, which will involve much deeper levels of multi-stakeholder collaboration as well as industry transformation.
Related Content
giulia
Mark Held, President of the European Outdoor Group, says companies which go beyond producing products and focus more on improving the outdoor experience can turn current industry challenges into opportunities and pave the way for a more sustainable future for the sector.