Media: Lufthansa Inflight Magazine 2019
Publication Date: October 2019
Sustainable Cities: Collaboration Matters
In order to achieve true sustainability, cities need holistic visions, brave leadership and open collaboration, says Roland Hunziker, Director of the Sustainable Buildings & Cities Programme at World Business Council for Sustainable Development (WBCSD).
Where are cities today in terms of sustainability?
Many cities are looking into becoming more sustainable. One reason is the rapid population increase in cities. While cities may occupy just 2% of the earth's land surface, they are home to more than half of the world's population — and our future is set to be urban. Currently, 1.5 million people are moving to cities every week and by 2050, over 7 billion people will live in urban areas. So, in cities sustainability challenges are accumulating and solutions have to be found. Many of the systems transformations towards more sustainable solutions actually need to happen in cities – this applies to the food system, mobility, the built environment and any other issue. Along the road of sustainability, we have to keep in mind that cities are starting with different challenges. The reality in Paris, London or Zurich is very different from that in Addis Ababa, Lagos or Manila. However, what unites cities, especially some of the global cities that want to be sustainability leaders, is that they all want to attract talent and global companies. Therefore, they want to show that they are taking sustainability seriously. Ultimately, sustainability translates into good quality of life, which helps to attract your future workforce. In addition, most of our supply chains today end up with the end consumer in cities. So, sustainable cities are equally important for global business.
How are cities rising up to this challenge?
Cities worldwide are committing to being part of the solution. Hundreds of city leaders pledged to live up to the Paris Agreement to demonstrate leadership and take bold actions on the climate change. Some of the fastest-growing metropolises are forging ahead showing that while problems lie in the cities, the solutions can also be found in the cities. In recent years, the densely populated city-state of Singapore that has only 710 square kilometres to play with, has developed the world's first sustainable green high-tech system to grow tropical-vegetables vertically. Singapore and many others have proven that with the right focus, resources and innovation, cities can find solutions and become more sustainable.
What is the WBCSD's role in this?
Our vision is to accelerate the urban system transformation to achieve resilient, healthy and sustainable cities. The WBCSD's Cities & Mobility Programme is designed to help cities to reduce the global emissions needed to deliver the Paris Agreement. We also provide a global, neutral platform for cities, businesses and citizens to interact and engage with each other in a strategic way. At WBCSD, we work with over 200 leading businesses that are very actively involved toward accelerating the transition to a sustainable world by making more sustainable business. For example, one of our partners, the BMW Group, has replaced artificial materials with recycled and sustainable raw materials throughout its entire value chain to respond to the needs of circular economy.
What are the practical challenges?
While it's relatively easy to develop a framework, there is usually a gap between incremental change and actual transformational change. That's why it all starts with the brave leadership.
We need city leaders who are able to reach out across all necessary stakeholder groups and really mobilise people. It is also important to foster an environment where people can bring their own perspective, experience and ideas.
How can the private sector contribute to developing more sustainable cities?
There is an opportunity to significantly influence sustainable urbanisation through decision-making at a city level. This is why city leaders around the world are stepping up to tackle climate change, pollution and mobility. But the truth is, cities cannot act alone – the role of entrepreneurs and businesses is crucial in developing and implementing sustainable solutions and providing financial capacity. Take the city of Medellin in Colombia as a prime example — it has developed an aerial metro system, a network of clean and efficient metro cars, the project that was financed by a public-private partnership led by the city. The metro cable system has revolutionised mobility and accessibility for residents of Medellin. The project saves 175,000 tons of C02 every year; it has also infused a new stream of tourism, which creates important businesses opportunities for a wide range of companies. Australia is another region that has seen a lot of investments at a city level recently, especially when it comes to smart transportation.
So what needs to be done to encourage more collaboration?
The problem is, this kind of collaboration is challenging most of the time because city leaders are mindful not to be seen to close to companies, and cities generally are afraid to lose control. This fear keeps many cities from going out there and finding the best solutions. I think worldwide, authorities need to get more comfortable in working with business in an effort to make our cities safer, more sustainable and better connected. Businesses on their side can develop many solutions to support urban sustainability, but they need a strategic engagement process to understand cities' needs and what is the role of their business in that process. As I mentioned, every city is different, with its own history, culture and people, so it's very important for the cities to understand where they are right now and where they want to be, not only economically, but also deciding what kind of skill bases they want to attract.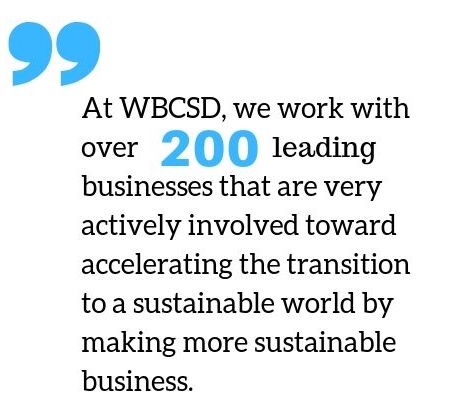 As cities experience rapid population growth, what needs to change in the construction sector?
Construction has been a polluting industry, and the challenge is to design, plan, construct and finance urban buildings more efficiently and sustainably. The sector is responsible for approximately 40% of energy-related greenhouse gas emissions. These emissions are found particularly in the materials used for construction and during the operation of buildings — we are simply using too many resources. While each building is different, the average lifespan of a commercial building is 60 years. That's why growing cities require circular design strategies that aim at increasing the possibility of reusing materials at the end of a lifecycle.
Designing new buildings to serve two or more purposes and be easily disassembled for a new lifecycle is another way to reduce emissions. A shopping centre, for example, can be repurposed into apartments, while apartment blocks can be designed in a modular way and be easily adapted to the needs of their inhabitants and also the needs of future generations. At WBCSD, we work together with companies in the building and construction sector to set science-based targets (SBT) that support the reduction of life-cycle carbon emissions of buildings.
What's your view on smart cities?
While we do need smart solutions to make cities a better place to live in, many so-called smart cities put technology at the centre, rather than the people. Smart cities can serve as the ideal test-bed for all types of technological innovation, but in reality, smart technology is not the main goal — improving the quality of life is. I think the most important and most interesting cities are still the legacy cities. We need to focus on the real problems and how to solve them: giving people access to water and energy, making sure electricity does not go away for two hours per day — these are the challenges a lot of cities are facing today.
So, what is the future of sustainability? 
Sustainable and smart cities have yet to become a reality. The real challenge is to make cities smart not from a technological perspective, but from the efficiency, equity and quality of life point of view. This can only be achieved through holistic visions, integrated planning and open collaboration.
Related Content
giulia
Mark Held, President of the European Outdoor Group, says companies which go beyond producing products and focus more on improving the outdoor experience can turn current industry challenges into opportunities and pave the way for a more sustainable future for the sector.