Media: Lufthansa Inflight Magazine 2019
Publication Date: October 2019
Interview with Kitrhona Cerri, Director, Social Impact; Davide Fiedler, Manager, Social Impact of the World Business Council for Sustainable Development (WBCSD)
Human Rights and the Robot Revolution: Developing a Positive Vision for the Future of Work
Advances in automation and Artificial Intelligence are transforming the world of work at an unprecedented rate. We spoke to Kitrhona Cerri and Davide Fiedler of the World Business Council for Sustainable Development (WBCSD) about how companies are preparing for the future of work.
The future of work has become a major topic for corporations, with issues ranging from managing remote workforces to changing job profiles. What are WBCSD and its members doing in terms of shaping the future workplace?
Kitrhona: We are working on two projects that are relevant to the future workplace: Human Rights and the Future of Work. As part of the Human Rights area, we are working with businesses to help them to better understand their role in addressing the issues around human rights, motivate them to take meaningful action, and to highlight the positive impact companies can have when improving human rights in the workplace. The Future of Work is a huge topic in itself. At WBCSD, we are looking at the challenges arising from rapid automation, digitalisation, social polarisation and the rising expectations of society and the workforce. We are bringing companies together to shape how businesses can respond to these challenges and move beyond the dystopian views we often have of robots replacing human workers towards a more positive vision for the future of work.
Let's start with human rights. In recent years, major multinationals have been brought to task for human rights failures in their supply chains. What progress has been made in eliminating these issues and where do we stand today?
Kitrhona: We have made extraordinary progress in the past decade. Business executives used to think of human rights as a matter for governments, not for business. Since the United Nations Human Rights Council endorsed the Guiding Principles on Business and Human Rights in 2011, which outline the respective responsibilities of states and businesses, the role of business in this space is much clearer. Coupled with a remarkable rise in regulations, companies across industries are now more focused than ever on the need to integrate human rights best practice into their activities. Whereas the majority of companies have traditionally focused on their direct employees, now business executives are increasingly tackling human rights issues deeper in the supply chain. Although more and more businesses are taking action across industries and geographies, many of the issues faced are complex and systemic. Collaboration across industries, sectors and stakeholders is often needed to make a real impact.
Blockchain is often praised by multinationals as being the answer to issues surrounding transparency, traceability and accountability in supply chains. Do you believe new technologies can play a role in protecting human rights and creating a fairer economy?
Kitrhona: Yes, but we are still at the beginning of this journey. Blockchain facilitates greater transparency, and this technology can be used to track all types of transactions, presenting promising opportunities for improvements across the supply chain. SMEs that have been excluded from the traditional banking sector, for example in the developing countries, can connect to other markets in order to get access to capital and financial services from all over the world. It allows us to cut out the middle man, which helps to ensure that suppliers receive a fair compensation. These areas are all taking off, and this is not just the domain of big corporations. In fact, a lot of big corporations are encouraging SMEs in their supply chains to adopt these technologies.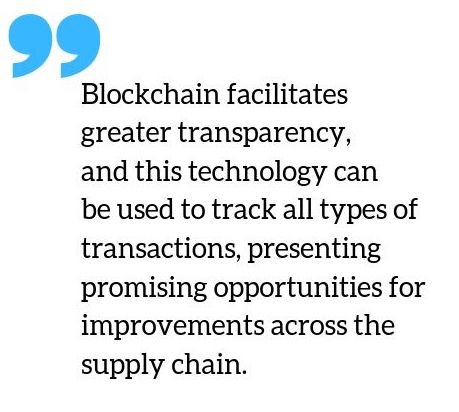 With regard to the future of work, what big changes can companies and societies expect over the next 10 to 15 years?
Davide: It's very hard to predict. What we have noticed is that there's a huge worry about the future of work because all the predictions lead to the same place:
dystopian views on the future, robots taking our jobs, huge concerns on social polarisation and income inequality. While more dangerous, repetitive and unpleasant work will be automated, in truth, AI in the workplace is a very nuanced topic. For example, the car manufacturing industry is becoming increasingly automated, which is often linked to losing manufacturing jobs. But in reality, there is increased demand for customised vehicles, which is something a robot cannot deliver.
Kitrhona: What we do know is that the decisions companies make now will shape what the future of work looks like. We believe that we need a more positive view of what work could be like in the future to guide those decisions. The WBCSD's vision for the Future of Work puts people at the heart of the issue. Our main focus is on what people need and want from their working life. We have found that the expectations of the workforce are timeless — they are as applicable now as they will be in 15, 30 or 50 years: people work to be financially secure; they want to work in environments that support their physical and mental wellbeing, and they seek out opportunities to thrive and to be proud of their accomplishments. What is changing is the way and the context in which businesses need to deliver this vision to people. In order to do that, the WBCSD brings companies together to inspire, inform and align business innovation for a sustainable future of work. Together we are working on solutions ranging from improving social security and financial stability of their workforce to the responsible implementation of new technologies and digital processes.
Artificial Intelligence (AI) and Machine Learning (ML) are making increasing inroads within society as a whole, but particularly in terms of replacing jobs. How are companies, and in particular governments, approaching these advances?
Davide: There are different responses from different countries. For example, in countries like Japan, AI and ML offer an opportunity to make up for a labour force shortage caused by a low birth rate and an ageing society. Other countries have the opposite problem as they already have too many workers coming into the market, so governments are seeking ways to use technology to drive economic development and job creation. Companies are currently taking a wide range of actions to implement new technologies responsibly, and to apply those technologies in ways that enable an equitable, diverse, inclusive and empowering future of work. We have collected a set of 20 case studies from WBCSD member companies bringing some of those approaches to life and are working together to share lessons learned and to develop and scale further solutions.
The world of work has witnessed many trends over the past 20 years. Currently flexible and remote working arrangements are in vogue. What noticeable trends are you seeing emerging in this area?
Davide: Global companies in the professional services sector have long adopted hot desking and open plan layouts aiming to increase productivity. Other companies don't have offices at all as technology enables people to work in increasingly flexible ways – this trend has been extended even further by platform technologies enabling 'gig workers', such as Uber and Deliveroo, and could become more radical with the introduction of virtual reality in the workplace, and 3D/4D printing which could enable remote manufacturing. However, this trend is being balanced by the need for a connected and engaged workforce – a number of companies that have embraced remote work for decades are now calling employees back to their offices. A big part of fostering happiness in the work environment means creating opportunities for meaningful connections between co-workers and within the communities in which business operates.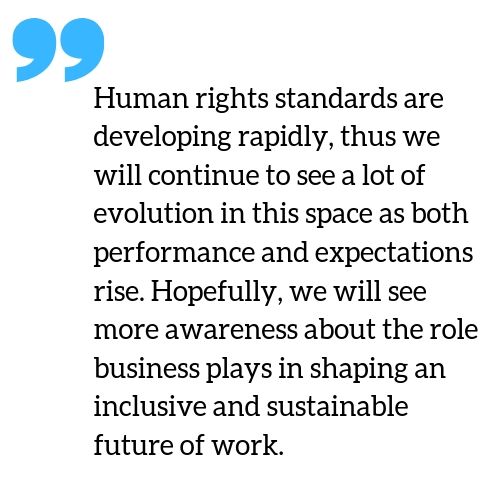 Looking down the road in the next 5 to 10 years, what's your outlook?
Kitrhona: Human rights standards are developing rapidly, thus we will continue to see a lot of evolution in this space as both performance and expectations rise. Hopefully, we will see more awareness about the role business plays in shaping an inclusive and sustainable future of work. Companies will be stepping up and taking braver and more positive positions together with government, educational institutions and civil society to shape a future where people, business and society thrive.
Related Content
giulia
The World Business Council for Sustainable Development (WBCSD) works with companies that have understood there can be no more business as usual. Backed by 200 of the world's leading corporates, the organisation forges a pathway for a sustainable future. Peter Bakker, President and CEO of WBCSD, explains how.