Report: Marvellous Mauritius
Media: Lufthansa Inflight Magazine
Publication Date: January 2016
Anahita
A New Class
Mauritius' political stability, booming luxury tourism market and strong focus on smart infrastructure make the island a highly popular real estate investment destination.
Anahita is the ancient Persian water goddess and the namesake of one of the finest developments in Mauritius that is seeking to redefine high-end living on the Indian Ocean Island. Situated on the majestic east coast of Mauritius, the large mixed-use complex boast lavish suites and villas and two 18-hole golf courses. With its unique luxury and family-friendly approach featuring environmental preservation, Anahita is attracting real estate investors and residents in search of a second home from all over the world. Foreign buyers have long been flocking to Mauritius on the back of promising returns on investment and high quality of life. A multicultural blend of nationalities is today calling Mauritius home. Offering social and political stability, a strong and diversified economy and a sophisticated financial services industry, the island's superb beaches, exquisite restaurants and leisure attractions are just the cherry on the cake. Since the island relaxed its ownership laws at the turn of the millennium, real estate has become a key driver of foreign direct investment thanks to several government initiatives to facilitate this.
Attracting Foreigners
For many years, non-citizens were able to acquire property for residential purposes under the Integrated Resort Scheme (IRS) and the Real Estate Scheme (RES). Purchase of an IRS or RES property of more than US $500,000 entitled the buyer and his immediate family – wife and children under 24, to live in Mauritius for as long as they own the property. IRS schemes are usually large developments containing villas, roads, gardens and sports facilities, while RES schemes are typically denser developments involving a smaller number of units with fewer facilities. According to the Board of Investment, more than 100 IRS units and 125 RES units were sold on the island in 2014. Recently, these two programmes were replaced with the Property Development Scheme (PDS), which allows the development of a mix of residences for sale to non-citizens, citizens and members of the Mauritian Diaspora. The conditions for foreign buyers have not changed significantly and they can benefit from the same advantages attached to the previous schemes.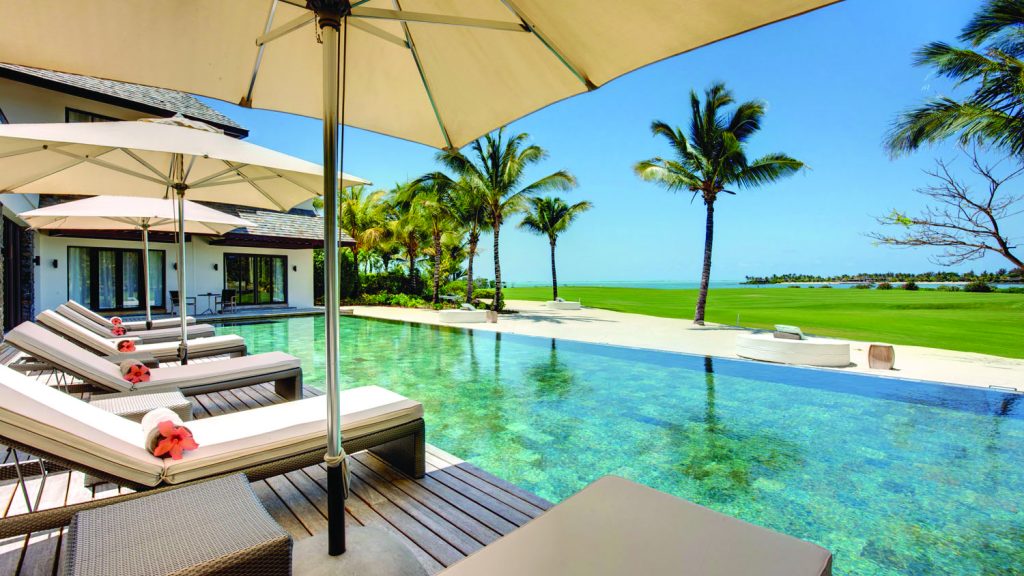 Flagship Project
One of the most prestigious and sought after IRS resorts is Anahita, a flagship project by Alteo Properties inaugurated in 2008. Incorporated in 2004, Alteo Properties is the real estate arm of Alteo Limited and the CIEL Group responsible for the development and management of their property assets. Anahita has attracted a range of buyers, mostly European, however there are owners from the Middle East, India, China and South Africa. Rolling over 213 hectares of tropical gardens alongside six kilometres of crystal clear lagoon, Anahita is set on one of the most breath-taking parts of the island. Renowned for its vibrant experiences, the Resort encapsulates everything luxurious, peaceful and enchanting about Mauritius. The exquisitely furnished suites and villas on offer allow visitors to experience the authentic modern lifestyle of Mauritius with access to two beaches. Whether you would like to own a villa or rent one during your holiday, Anahita Resorts offer something truly unique. The Resort has an extensive portfolio for Mauritian and foreign ownership of luxury villas, duplexes, lodges and waterfront residences, as well as serviced land with turnkey building solutions. There are 70 one-three bedroom fully furnished suites as well as over 28 luxury villas comprising between one and five bedrooms, all designed with sustainability in mind. Upon buying a villa or apartment within Anahita, homeowners have the opportunity to let their properties through one of the resort's private rental schemes.
One of a Kind
The villas include in-house chefs and dining services. Surplus to this, there are a range of top quality restaurants, cafes and bars within the resorts for residents to enjoy. There is no shortage of activities to keep residents occupied, for intance with Ernie Els signature 18-hole golf course set against a stunning backdrop of crystal clear oceans and lush green mountains, the first of its kind in Mauritius. Also set within the grounds of Anahita Resorts is the Four Seasons Resort Mauritius, a stylish open-air resort. "There are lots of things to do here. There are plenty of restaurants, we have Four Seasons, a golf course, beautiful beaches and many other facilities. We have Shangri-La hotel next to us also, so Anahita is really like a full destination by itself," says Jean Pierre Dalais, Chief Financial Officer of CIEL Limited. Located just 15 minutes away from Anahita is the Domaine De L'étoile leisure park, set on 6,000 hectares of forests, valleys and rivers. Containing the longest zip line in the world, the park offers various activities such as quad biking and hiking. There is also opportunity to see wild boars, bats, monkeys and native birds. Water sports, boating, fitness and well-being centres, tennis courts, kids' clubs and other outdoor activities ensure this is no place for boredom or restlessness.
Related Content
alina
Mauritius has constantly been reinventing itself. By leveraging its strategic position at the crossroads of Africa, Asia and Australia, the Indian Ocean island is gradually transforming itself into a business hub and an international jurisdiction for investors in search of security and transparent regulation.