Report: Revolutionising Payments
Media: Lufthansa Inflight Magazine 2015
Publication Date: December, 2015
PayPal
Pioneer of Payments
After PayPal cut loose from eBay in the summer of 2015, the company has set its sights on capturing a larger share of the growing mobile payments market.
For many, PayPal has become synonymous with online payments. Back in 1998, its founders had a very simple vision: to create a safer, faster way to pay and get paid online. "PayPal was the first payment method created for the internet age," Rupert Keeley, CEO of PayPal Europe says. "People were starting to do things online and wanted a fast and convenient way to pay, but they were reluctant to share their personal and financial information with the people they did business with." PayPal was the answer: it does not share its customers' financial information, such as bank or credit card details, with merchants. And shoppers do not need to enter their card or bank details when they pay for things with PayPal.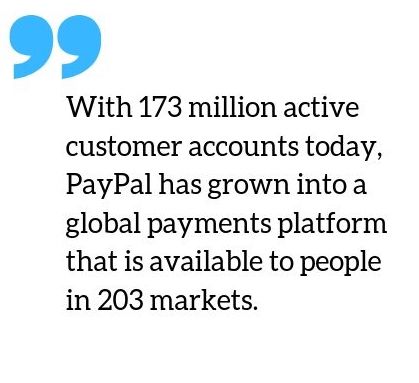 Over the past 15 years, PayPal has helped millions of people and businesses make the most of the online revolution. With 173 million active customer accounts today, PayPal has grown into a global payments platform that is available to people in 203 markets. Today, customers can get paid in more than 100 currencies, withdraw funds to their bank accounts in 57 currencies and hold balances in their PayPal accounts in 26 currencies. In 2014, PayPal processed US$235 billion in total payment volume and generated more than US$8 billion in revenues.
A New Beginning
PayPal's growth did not go unnoticed. In 2002, eBay bought PayPal for US$1.5 billion after it became a well-established way to pay on the online auction site. In July 2015, eBay and PayPal split back into two independent companies. This move, says PayPal, enables it to focus more intently on what it does best and to explore new market and partnership opportunities, while eBay and PayPal remain great partners. PayPal is now an independent public company traded on the Nasdaq Stock Market that is seeking to take advantage of the rise in mobile commerce. PayPal has already seen its mobile payment volume grow significantly over the past four years. Last year, the company processed 4 billion payments, of which 25% were on mobile devices.
Mobile Innovator
PayPal actually anticipated the benefits of paying on mobile devices, such as smart- phones. It was originally created to let people send each other money on Palm Pilot personal organisers. In time, the company realised that mobile phones would be the perfect way to pay 'on the go', and opened up the world of mobile payments. The company has continued to innovate, including the recent launch of PayPal.Me, an easier and faster way to request money from friends, family and work colleagues.
PayPal is also very well positioned to capitalise on the mobile commerce trend due to its acquisition of Braintree in 2013. Braintree leads the online and mobile payments processing industry, with a reputation for having created innovative, industry-leading products and services that are easy to integrate and use for merchants, while engaging a robust developer ecosystem. Braintree powers payments for thousands of online and mobile commerce innovators including Airbnb, Uber, GitHub, and HotelTonight.
As a technology company we are very well placed to innovate, reinventing money for a digital age. As a financial services company, we make money work seamlessly around the world"

Rupert Keeley, CEO of PayPal Europe
In-Store Payments
In early 2015, PayPal also acquired mobile wallet firm Paydiant that provides the back- end technology behind mobile apps that allow for in-store payments using a scannable code at checkout. "With this acquisition we are deepening our role as a partner to merchants by developing great products and sharing our expertise and experience as a leader in digital and mobile payments," says Rupert Keeley. PayPal and Paydiant complement each other – PayPal facilitates and simplifies payments, and Paydiant creates mobile experiences for brands. "This acquisition accelerates our ability to offer our merchant partners a way to create their own branded wallets to facilitate mobile- in-store payments and drive consumer engagement."
Best of Both Worlds
While PayPal's rivals come in different shapes and sizes, the company remains unique. "We are a technology company and a financial services company. We sit between these two worlds and bring them together. "We are also very unusual as we have a direct relationship with the consumer and the merchant – the buyer and seller. This means we can create experiences that meet the needs of both." At the same time, the company can keep a close eye on unusual transactions or behaviour from both the merchant and the consumer side. "We have built a sophisticated risk management system over the past 15 years, including risk experts and anti-fraud algorithms, while our buyer and seller protection programmes can help in the unlikely event that something goes wrong."
Wearable Future
In charting its growth in Europe, PayPal benefits from the fact that it has been granted a banking licence in Luxembourg. "It allows us to provide PayPal services seamlessly across the European Union under single market banking regulations. We are well placed to help European consumers and businesses take advantage of the EU's Digital Single Market." In 2014, PayPal also entered a number of new markets in Europe and beyond, including Macedonia, Monaco and Zimbabwe.
Going forward, the payment giant expects to see momentum in the wearable space as the number of users continues to rise. PayPal has already made its mobile app available for the Pebble Smartwatch. PayPal is convinced that wearables are the next phase of the mobile revolution and that there is a wearable future for payments ahead, one that will once again revolutionise the way consumers, merchants and money interact.
giulia
New technologies must maintain high security standards, says Jens Bader, Chief Commercial Officer of Secure Trading, and identity services could be the next big thing in the fight against payment fraud.