Report: Marvellous Mauritius
Media: Lufthansa Inflight Magazine
Publication Date: January 2016
LUX* Resorts & Hotels
Redefining Luxury
LUX* Resorts & Hotels are extending the boundaries of luxury in Mauritius, while the Group's global expansion moves forward.
LUX* Resorts & Hotels have opened a new chapter in Mauritius' tourism industry by redefining the meaning of luxury and responding to changing travel trends. While the 20th century version of luxury travel meant chauffeured cars, premium suites and the best that money can buy, people's priorities have changed and so have their needs and desires. Luxury today has become synonymous with the quality of an experience and a connection made at an emotional level that is beyond the day-to-day. "We have noticed that more and more, people are looking not necessarily for ostentatious luxury but for a lighter form of luxury," says Paul Jones, CEO of LUX* Resorts & Hotels.
Travel as an Experience
In a destination that has been on the luxury travellers' bucket list for many decades, LUX* Resorts & Hotels are now focusing on the unique experiences that the destination offers, coupled with the famous Mauritian hospitality. Offering all the amenities of luxury resorts, LUX* Resorts & Hotels pay more than lip service to being a home away from home. Design, décor and the overall vibe at the Group's resorts are quite unique. The resorts' residential feel seeks to instantly draw in visitors. For instance, guests will not find a reception counter in the lobby. "We've tried to make it an easier experience by reducing and eliminating formality. So when you arrive, you are being welcomed almost like you're being welcomed into someone's home, in a very relaxed way. If you are on holiday, you don't want to waste time by feeling not at ease," says Jones.
Lux is the Latin word for light, and it has become the group's guiding principle. "We help people celebrate life by delivering on the promise of a different kind of luxury, which focuses on creating original, unexpected and delightful additional experiences for our customers, be it on-beach film screenings and pop-up bars or retro-styled ice-cream parlours and laughter yoga classes." This new brand of simpler, more relaxed and more individual luxury – underpinned with truly incredible service – has wide appeal. Some 15% of the Group's business stems from the German-speaking market, and with Lufthansa now offering two weekly flights from Frankfurt to Mauritius, Jones expects the number of Germans peaking guests seeking an alternative to the traditional luxury hotel to go up.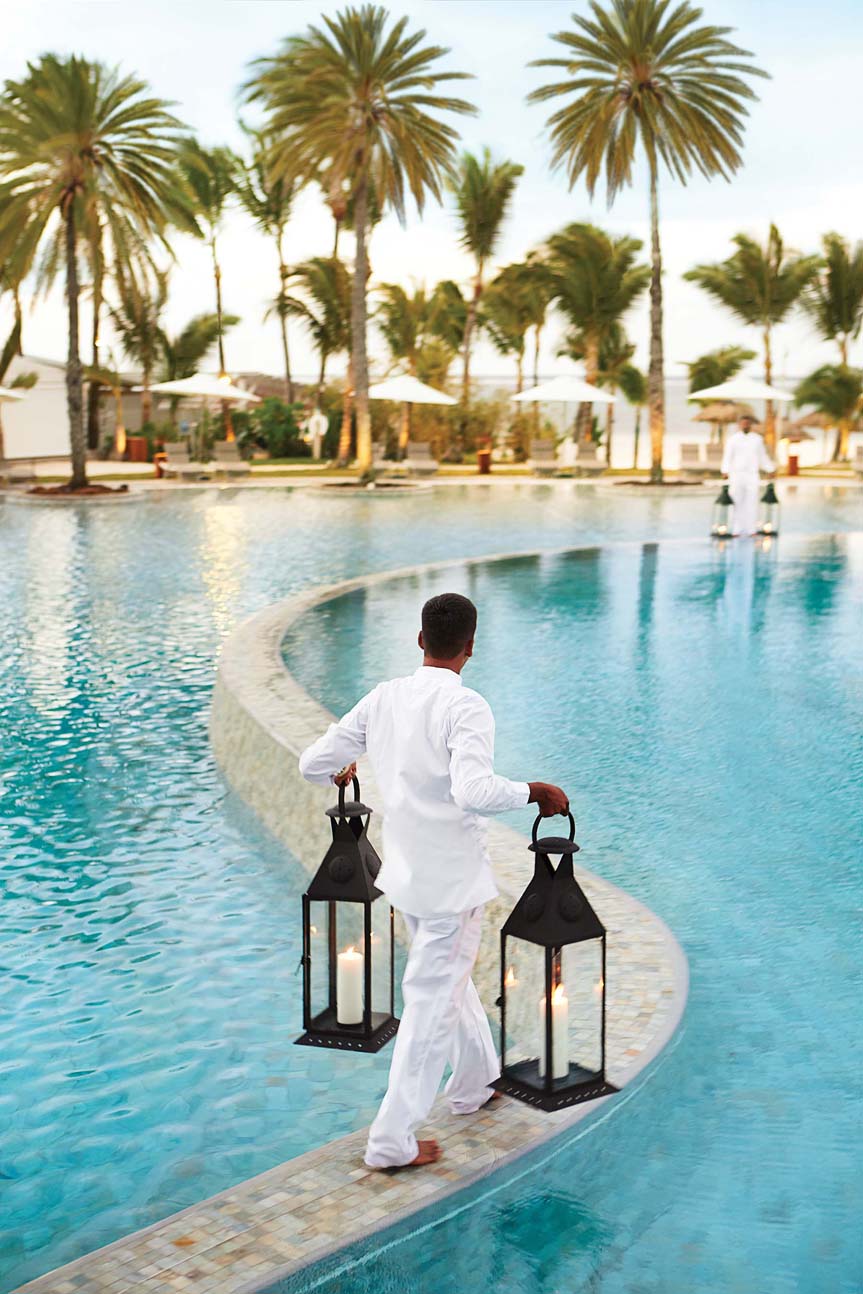 Pick your Favourite 
In Mauritius, three resorts, LUX* Belle Mare, LUX* Le Morne and LUX* Grand Gaube, form part of the LUX* portfolio. LUX* Belle Mare stretches along the pristine eastern shore of the island. World-famous interior designer Kelly Hoppen's touch can be seen throughout. Decked out in gentle whites and bold colours, each of the thatch-roofed suites and villas is blessed with sea views. The resort also boasts Mauritius' largest swimming pool, an award-winning spa and three golf courses nearby. Located on the southwestern tip of the island and set against the backdrop of the majestic Le Morne Peak, a UNESCO World Heritage Site, LUX* Le Morne is a tranquil beach resort. Facing one of Mauritius' most spectacular lagoons, the resort boasts four splendid swimming pools, a pampering spa and inviting chalets scattered around luxuriant tropical gardens. The LUX* Grand Gaube sweeps around three sandy bays on Mauritius' north coast. Close to the bustling bars and charming shops of Grand Baie, this luxury beach resort offers unparalleled sea views in every room, three swimming pools and an indulgent spa.
What distinguishes LUX* from all the other 5-star resorts in the sector is the level of service, says Paul Jones. LUX* Resorts & Hotels invest heavily in the training and education of the Group's 2,800 employees. But that's only one reason for LUX*'s success. "When we rebranded the resorts in 2011, we spent a lot of time thinking about our shared values. We all believe that every moment matters, and today this is the driving force for us to deliver an excellent experience. All our team members are working towards that common goal."
Global Ambitions
Beyond Mauritius' shores, the Group also operates resorts in the Maldives, in Reunion and in China, and there are more to come. "I am very keen to make a serious expansion into China and Southeast Asia. So that is quite a big area where we want to expand. We have also recognised that we have capacity to add more resorts in Mauritius." In 2016 and 2017, we will be opening another six LUX* hotels; two more in China, one in the Maldives, one on Reunion, one in the United Arab Emirates and one in Turkey.
"We are a Mauritian company, quoted on the Mauritian Stock Exchange and our headquarters are in Mauritius, but our ambitions are to grow and expand globally," Jones says. He thinks LUX* has the potential to emulate the success of other luxury hotel brands such as the Four Seasons, Ritz Carlton and Hyatt. "The LUX* brand has only been in existence for four years. We are still very young. There is more innovation to come."
Related Content
alina
Mauritius has constantly been reinventing itself. By leveraging its strategic position at the crossroads of Africa, Asia and Australia, the Indian Ocean island is gradually transforming itself into a business hub and an international jurisdiction for investors in search of security and transparent regulation.