Report: Revolutionising Payments
Media: Lufthansa Inflight Magazine 2015
Publication Date: 12.2015
Trustly
The Quiet Evolution of the Bank Account
The advent of online banking has revolutionised the way people manage their money. With 93% of European citizens using their bank accounts as their primary funding source, Trustly – the Swedish FinTech company - is on a mission to make online payments using the bank account simpler and more relevant for consumers.
Online banking is becoming a bigger part of consumers' lives. Accessing their bank accounts, handling savings and making payments, all from a device that fits in the palm of a hand, is now second nature for many European consumers. But the future of the online bank has far more in store. "The way we make payments from our bank accounts is beginning to take centre stage. At Trustly, we are underpinning this change by working with merchants across Europe who want to offer their customers the opportunity to pay for online purchases directly from their bank accounts," says Johan Nord, Chief Commercial Officer of Trustly Group AB.
Online Banking Growth
Nearly 95% of Europe's population has access to a bank account, and in many markets online banking has become the preferred method of managing savings and making payments. In the Nordics, over 80% of individuals manage their savings through online banking, while surveys found that last year on average 44% of all Europeans with access to a bank account regularly used internet banking, representing an increase of 16 percentage points compared to figures from 2009. This figure is expected to increase significantly over the coming years. "The use of online banking is on the rise throughout Europe, due to the increasing convenience and simplicity for consumers to access their bank accounts via the online channel. As a consumer the online bank account is your primary funding source, your true digital wallet, and Trustly's solution allows you to use it directly for online commerce payments," says Johan Nord.
"We are now on the cusp of an e-commerce revolution, and payments through your online bank account are the future."

Johan Nord, Chief Commercial Officer of Trustly Group AB
Digitalisation of the Bank Account
The advent of simpler and more convenient ways to access your bank account has been a primary driver of online banking popularity.
"Thanks to a greater degree of regulatory standardisation in Europe, we are moving towards complete digital authentication; you can now handle your banking from your browser or smartphone, a far cry from the days of the bank teller," Nord highlights.
Technological advancements, regulatory changes and the shift in consumer behaviour are factors that have enabled payment providers like Trustly to emerge. Nearly 90% of all of Trustly's mobile payments in Sweden are authenticated and verified by a digital identification app for smartphones, Mobile Bank ID. More than 60% of Trustly's clients use Mobile Bank ID to authenticate their payments on their desktop. "Mobile Bank ID has truly digitised the bank account in Sweden, and this digitalisation is taking hold all across Europe," explains Johan Nord. "This change has given consumers better access to their money while adding simplicity in an age where user experience is of utmost importance."
Consumer preference to use the bank balance to pay for online purchases is high in many European countries. In countries where a local online bank payment solution has been made available, such as the Netherlands and Austria, the adoption has been swift, and the consumer preference for online bank payments is even higher than in the rest of Europe. Until now many countries have not had convenient solutions for online bank payments, Nord says.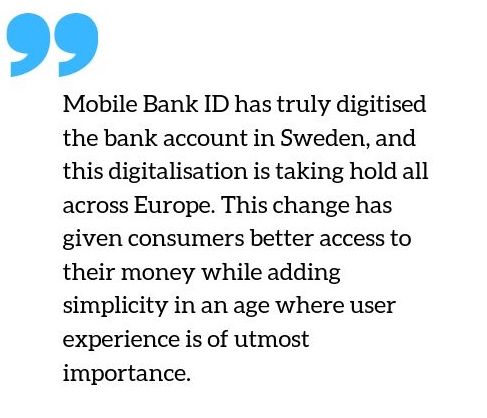 Trustly, a Payment Solution
This is where Trustly comes in. "From our Nordic home markets we have now expanded to all 28 EU countries. We have created a simple and fast online banking payments solution for making purchases online from any device, straight from the merchants' checkout page. Trustly's product is versatile since it enables consumers and merchants to carry out both inbound and outbound payments, a unique combination that sets us apart from the competition," says Nord.
In the 29 markets where Trustly is present, the payment solution supports bank specific authentication methods, which the consumer is already familiar with. When money is sent between banks through traditional channels, the transaction can take up to three working days to process, especially in a cross-border context. "This is awkward for merchants in an age where instant gratification is the cornerstone of online life and consumer satisfaction," says Nord. Trustly's risk management system identifies that the required funds are available in the payer's online bank account, allowing the immediate authorisation of the payment. Once the payment has been authorised, a transaction with Trustly is both instant and irreversible, making fraudulent chargebacks a thing of the past.
Supporting e-commerce
Speed, safety, convenience and coverage of payments across Europe are especially important for merchants considering the scope of cross-border e-commerce in the region. Recent reports estimate that European e-commerce sales will reach €477 billion in 2015 and will see an annual growth of around 15% going forward. Coupled with the popularity of online bank payments, Trustly's solution provides merchants with a one-stop shop for European online bank payments. "We are now on the cusp of an e-commerce revolution, and online bank payments are the future. Against this backdrop, Trustly is in a prime position to become a major force in enabling European e-commerce for both merchants and consumers."
How online bank payments with Trustly work - 2 examples:
P2P: BUYING A BICYCLE ON A MARKETPLACE THROUGH TRUSTLY
Carmen wants to cycle to work but is struggling to find prices that meet her budget for a new bike. Her best bet is a person- to-person online marketplace, like craigslist. She puts a bid on a bicycle she likes, and once the price is agreed between her and the seller, Carmen transfers her money through the Trustly iFrame on the checkout page. Trustly sends a notification to the seller that the funds have been received and the item can be sent. While the bike is in transit, Trustly holds the funds. Carmen's money is transferred to the seller once she notifies Trustly that the bicycle has been received. Trustly instantly releases the money into the seller's bank account.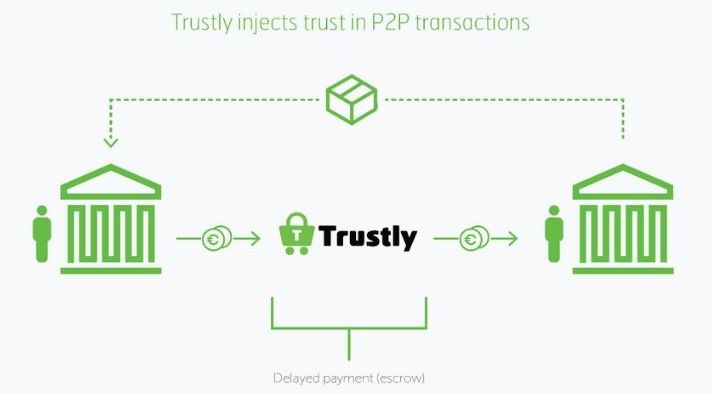 PAY-OUT: RETURNING GOODS TO AN ONLINE MERCHANT
Dan is a logistical nightmare for e-merchants. When he shops online, he usually orders clothing in several sizes and returns about 50% of what he has bought. The administrative costs to handle all of Dan's returns, alongside the thousands of others who return more than half of purchases, are a burden. Merchants have to keep track of the goods Dan has bought, as well as how much they owe him for the returned items. With Trustly on the checkout page, both Dan's and the merchant's accounts are identified through Trustly's service. This means that any payments Dan makes are instant, and the merchant receives an immediate notification that the payment has been made. Likewise, any payments going back to Dan for returned items are also automated, thereby reducing the administrative costs of returns.
giulia
New technologies must maintain high security standards, says Jens Bader, Chief Commercial Officer of Secure Trading, and identity services could be the next big thing in the fight against payment fraud.