Media: Lufthansa Inflight Magazine 2018
Publication Date: November, 2018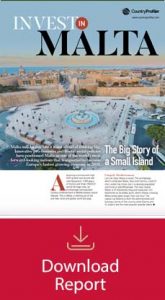 Summary
Malta may be tiny but it is not afraid of thinking big. Innovative pro-business and liberal social policies have positioned Malta as one of the world's most forward-looking nations that is expected to become Europe's fastest growing economy in 2019.
A booming economy with high GDP growth and record-low unemployment; 7,000 years of history and three UNESCO world heritage sites; an increasingly cosmopolitan country combined with a Mediterranean island lifestyle. This is Malta, a melting pot of old and new, local and global, work and play.
Report Content
giulia
Hip and historic aren't opposites in tiny Malta, and there are plenty of Instagram- worthy sights and spots to get excited about. With azure waters rivaling those of the Caribbean, ancient ruins older than Stonehenge, and a capital city whose architectural heritage is comparable to Venice, Malta packs a lot in its small size.